Hello...Guess what? Gentri Lee is back with her 7 questions, so I am excited and I'm linking up (for my first time)!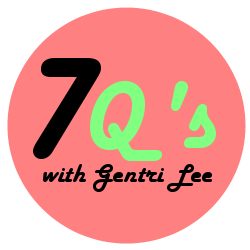 First off, let's begin with my funny picture.
This is Mr.B. wearing his mask he's had for years. Every once in a while, he'll come across it and decide it's time to scare get the kids reaction to him with it on. & just like the time before and the time before that, it's freaking hilarious! He's been doing it since our oldest was an infant. As you can see here, she is not thrilled and was squirming her way out of his hold, haha. Such funny mean parents.
Here's the 7 questions for this week:
1. It's the first day of August- Are you savoring the Summer or ready to jump into Fall?
I live in hot, sunny, sometimes rainy, Florida...Of course I'm ready for fall!! I want my windows open and my kids outside all day long!
2. You need a quick and healthy meal, what do you make?
Fresh Fruit!!! I crave it all the time. I hated fruit until I went through both my pregnancies and the craving never went away. I love to have it all cut up and prepared...so it's really easy to eat. & Yes, Brandon will always cut it up for us girls so I usually always have fresh fruit cut up & ready to eat.
3. You're at the mall, how do you shop?
How? Uhh..FAST! I have two toddlers & the youngest is NEVER happy with shopping. & the oldest thinks the only reason there is a mall is for that tiny little indoor playground (that we LOVE!).
That's right, this is her "shopping face".
4. Would you rather buy a new house or renovate an old one?
OMG I want a new one. We are renters and have rented some really old places and I just don't like living in an old place that has had who knows how many occupants. It's just eerie to me.
5. Long hair or short hair?
Long!! Have you seen mine? I love it. So does Mr. B. & we have made a promise to never cut the toddlers' hair either.
6. Who is your oldest (not by age) friend?
Kimmy-Poo! My friend Kim...She's been my friend long enough to have played every role from 2nd mama to sister, to best friend. And now she is an Aunt to my children. A best friend for over 15 years.
7. What is your favorite blog- currently?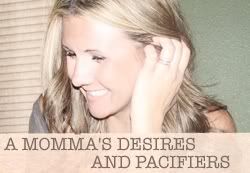 This was hard to pinpoint as I have just found so many of y'all and all of you have such awesome blogs...but, seriously, my favorite blog as of right now would have to be Raven's blog:
A Momma's Desires & Pacifiers. That chick is crazy funny and from a writer's point of view, she has mad writing skills. I love her writing style and her humor keeps you glued and wanting more! Plus she has the cutest little boys & a boat that we all wish we could have spent the summer in. :)
++~++~++~++~++~++~++~++~++~++~++~++~++~++~++~++
And I also linked up, today, with these great link-ups..Holla!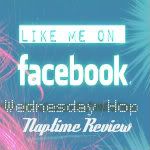 Well...
Technically
, I know I missed Wednesday by almost 2 hours, but hey, it was Mr.B's day off & I had really cool "off computer" type things to do. But, leave me a comment & let me know you were here...Have a great Thursday everyone!
Love & questionnaires,